Exporting GarageBand Project as MP3
Step-by-Step Guide
First, open your GarageBand project that you want to export as an MP3 file.
Once your project is open, go to the "Share" menu in the top menu bar.
Select the "Export Song to Disk" option from the drop-down menu.
Rename your file and choose the location where you want to save your exported MP3 file.
Select "MP3" from the "Compress" drop-down menu.
Click on the "Export" button to begin the exporting process.
Wait for a few minutes until the exporting process is complete.
Choosing the Mp3 Format
Quality: When selecting the Mp3 format, you'll be asked to choose the quality level of the file. You can choose from a range of quality levels, from 96 kbps to 320 kbps. The higher the quality, the larger the file, but the better the audio fidelity.
Bit Rate: The bit rate refers to the amount of data that is being transferred per second. When exporting as an Mp3 file, a higher bit rate will result in a higher quality audio file but also a larger file size. Conversely, a lower bit rate will result in a lower-quality audio file but a smaller file size.
File size: When exporting as an Mp3 file, you'll also want to consider the final size of the file. A smaller file size may be preferable if you plan to share the file online or via email. Suppose you intend to use the file for professional purposes, such as broadcasting or editing in a studio. In that case, you may want to consider a higher-quality format that will produce a larger file.
Adjusting Export Settings
Choose the Quality Setting: When you click the Share button and select Export Song to Disk, you will be taken to the Export Song dialog box. One of the first choices you'll encounter is the quality setting. The options are High Quality (128 kbps), iTunes Plus (256 kbps), and Custom. For the best sound quality, I recommend selecting the Custom setting.
Select the Bit Rate: The next step is to select the bit rate. The higher the bit rate, the better the sound quality. However, a high bit rate also means a larger file size. It would be best to choose a bit rate based on how you intend to use the file. If you're exporting the song for personal use or to share with friends, a bit rate of 192 kbps or 256 kbps should suffice. A higher bit rate may be necessary if you plan to distribute the song to a wider audience.
Adjust Other Settings: GarageBand also allows you to adjust other settings, such as the sample rate and channel mode. In general, a sample rate of 44.1 kHz is suitable for most applications. For the channel mode, you can choose between stereo and mono. Stereo is recommended for most songs, but mono is a better choice if you're recording a voice memo or a podcast.
Name and Save the File: Once you have selected the desired settings, you can name the file and choose a location to save it. Creating a folder specifically for your exported GarageBand files is a good idea to keep them organized.
Naming and Saving Your Mp3 File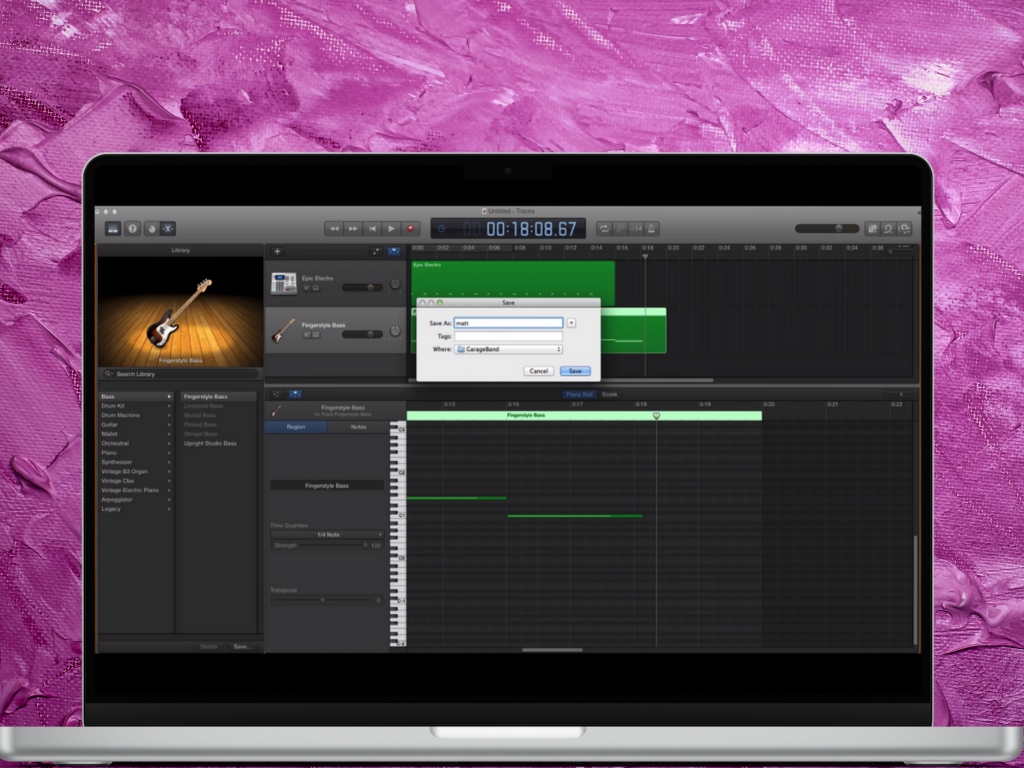 Here are a few tips to help you name and save your mp3 file
Choose a descriptive file name: Choose a name that reflects the content or theme of your music file. This will make it easier for you to identify the file later on and for others to understand what it is about. For example, if your file is a jazz ensemble, you could name it "Jazz Ensemble.mp3".
Avoid special characters: Avoid using special characters such as %, &, \, or / in your file name. These characters can cause issues in different operating systems, so stick to letters, numbers, and spaces.
Choose the right file location and format: When saving your mp3 file, choose a location on your computer that's easy to access, such as your desktop, documents, or music folder. Also, make sure to select the right file format. In this case, choose an mp3 file format.
Don't forget to add tags: Tags are descriptive words that make categorizing and searching for a file easier. When saving your mp3 file, add relevant tags such as the artist, album, and genre.
Locating Your Exported Mp3 File
Open the Finder app on your Mac.
Click on "Music" from the list of locations on the left-hand side.
Look for a folder named "GarageBand." If you exported your mp3 file using the default settings, it should be in this folder.
Open the "GarageBand" folder and look for a sub-folder named "Media."
In the "Media" sub-folder, you should see your exported mp3 file. You can now drag and drop it to your desktop or to any other folder of your choice.
Troubleshooting Export Issues
Export Stalls or Takes Too Long
Low-Quality Sound or Distortion
Export Fails, or File is Corrupted
Exported File Won't Play
Limitations of Exporting as Mp3
Loss of Quality
Limited Bitrate Options
No Separate Track Export
Copyright Issues
Other Formats to Consider
WAV (Waveform Audio File Format)
AIFF (Audio Interchange File Format)
FLAC (Free Lossless Audio Codec)
AAC (Advanced Audio Coding)
MP4 (MPEG-4 Part 14)
Check, List of All Famous Songs Made With GarageBand
Conclusion