There might be a multitude of reasons you want to change your macOS Admin name on your MacBook. Maybe you purchased a used MacBook, and it's still named after the previous owner, or perhaps you just fancy a change and want something more creative or personalized. Learning "How to Change Admin Name on Mac" can be incredibly useful.
In this article, we're going to walk through the process step-by-step, making sure that all bases are covered in creating a new admin user account, renaming the original home folder to match up with the new username, and finally renaming your admin account itself – all without having any impact on your saved files or configured settings.
Changing Your macOS Admin Name
Before you start the process of changing your macOS admin name, keep in mind that this change will impact your home directory. Ensure that you have a backup of all important information before proceeding further.
Note: You might see 'system settings' instead of 'system preferences' if you are on the latest macOS
Start by creating another administrator account on your MacBook (You could skip this step if your Mac has more than one admin). Navigate through 'System Settings' and then click 'Users & Groups.' You'll see a '+' sign at the bottom left corner(if you are on an older version of macOS); click it and follow the steps to create a new admin account.
After successfully setting up another administrator account, log out from your current username and re-login with the newly created one. Now, go back to 'Users & Groups' and select your original user account, but do not make changes yet.
The next step requires us to rename the home folder, which corresponds with our old username. To do this, open Finder > Go > Computer > Macintosh HD (or whatever name you've given for system directory) > Users. Here, find the folder named after your original admin name and rename it to match with what you want as a new admin name.
Having done that part, go back to the 'Users & Groups' window – choose advanced options for the current user (you can access these by right-clicking on the user's name) and change both fields: 'Account Name' and 'Home Directory.' The field values must correspond with each other, i.e., they should be identical to ensure the smooth operation of macOS after these alterations.
Once you've entered the desired names matching those assigned in the renaming part above, confirm any prompt asking for an administrator password or approval for changes made so far.
Now everything is set! Log out once more from this temporary admin account and log in again into your main account, but remember – its identity has changed now.
Don't ignore one thing, though: If there are any issues noticed after changing these settings – simply reverse them following the same route, or worst case scenario, if something goes wrong – restore data using the Time Machine backup we advised earlier before starting this procedure.
A. Create a new macOS admin user
You can skip this step if your Mac has two or more admin users. If you have one admin user on your Mac, then you will first have to create a new macOS admin user. Here's how:
Launch System Settings by clicking on the Apple menu in the upper-left corner and selecting "System Settings."
Now, navigate to Users & Groups. You'll find it at the bottom of your System Settings window.
Click on the lock icon at the bottom left corner of the screen(if you are on an older version of macOS) or click on "Add Account" (If you are on the latest version of macOS) to allow changes. Enter your existing password when prompted.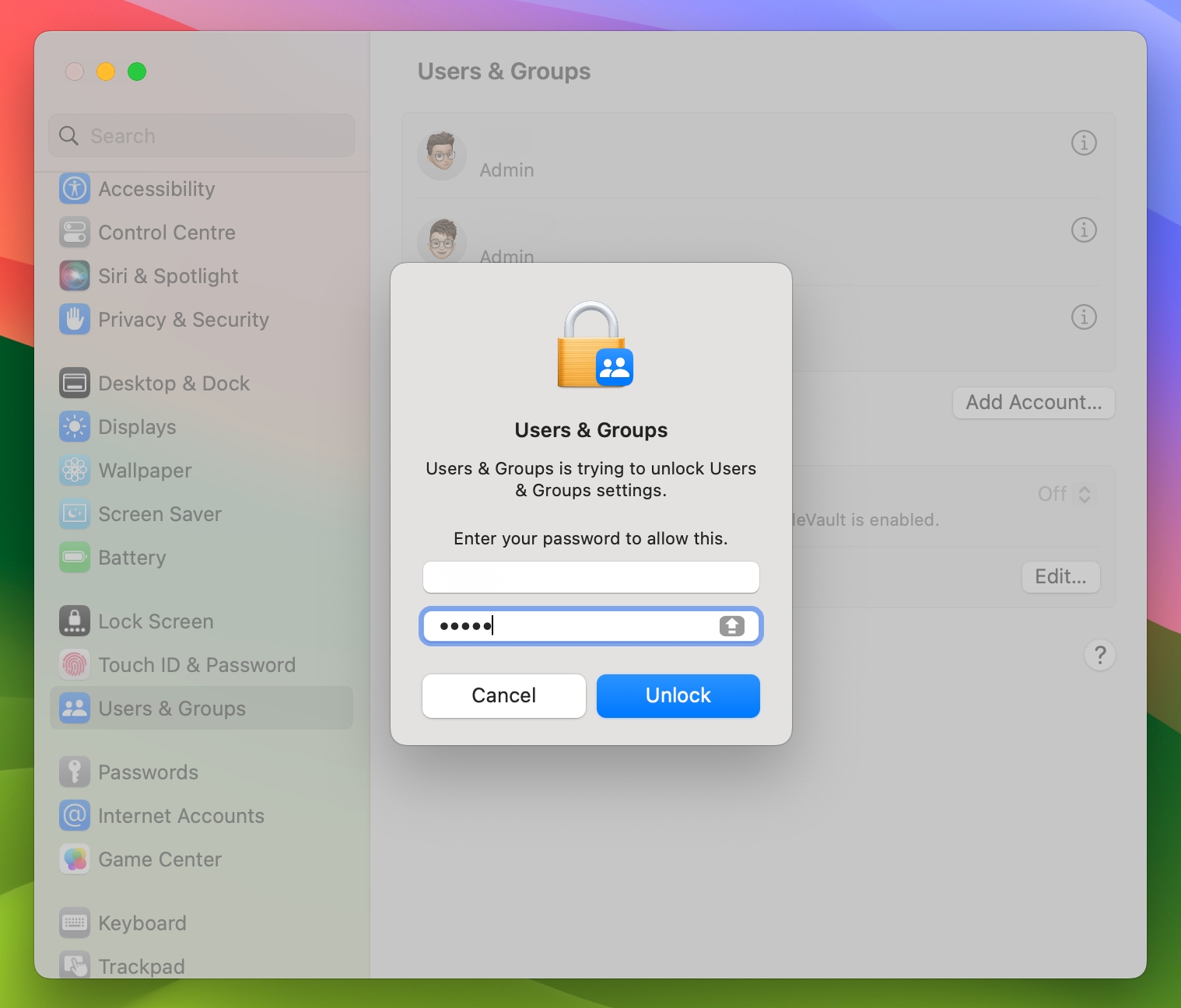 After unlocking Users & Groups settings, click on the '+' button to add a new user account(for an older version of macOS).
In the 'New Account' field, select Administrator from the drop-down list, as we need administrative rights for this new account.
Fill out all necessary fields, including full name (the one you want for current Admin), Account Name (usually auto-filled according to Full Name), Password, and password hint as well.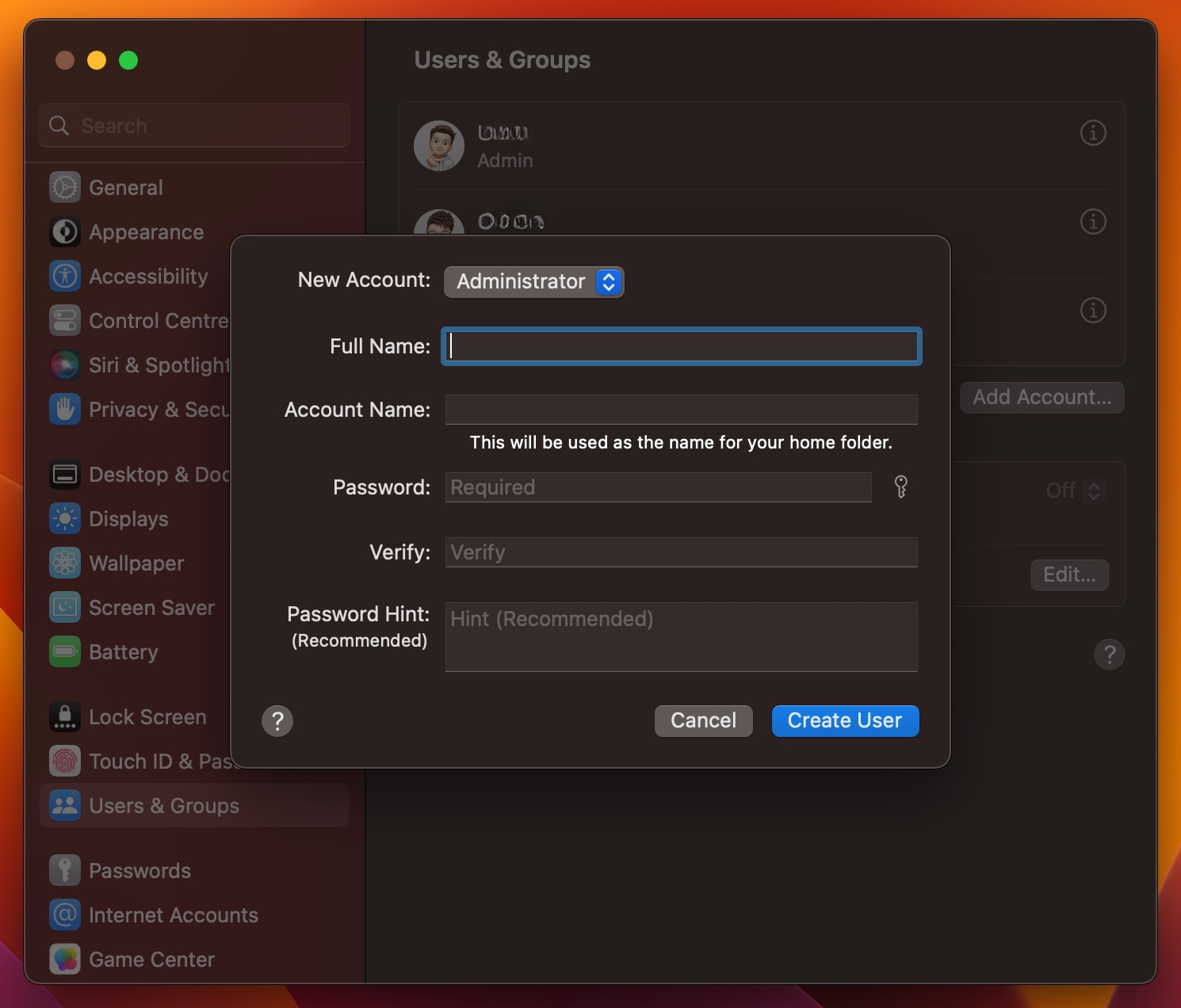 Now you've successfully created another administrator account with the desired username, which will aid us further in changing the original admin name without losing any data or access rights.
Also Read: How to Connect AirPods to MacBook: Step-by-Step Guide
B. Rename the original Home Folder
Let's tackle the next pivotal move: renaming your original home folder. You can find this directory under Users on your Mac's main hard drive.
To proceed, you must log out of the user account you wish to rename. Click on the Apple logo at your screen's top left corner and select Log Out. Ensure all important work is saved before doing so, as this step will close any open apps or files.
After logging out, sign back into macOS using a different administrator account. If another one isn't available, you'll need to create an additional admin user first.
Next comes accessing the Users folder:
In Finder, opt for Go > Home from the menu bar.
From here, choose View > as Columns, followed by selecting View > Show Path Bar if it's not already checked.
Now that you're in the user's directories section, locate and click on Users.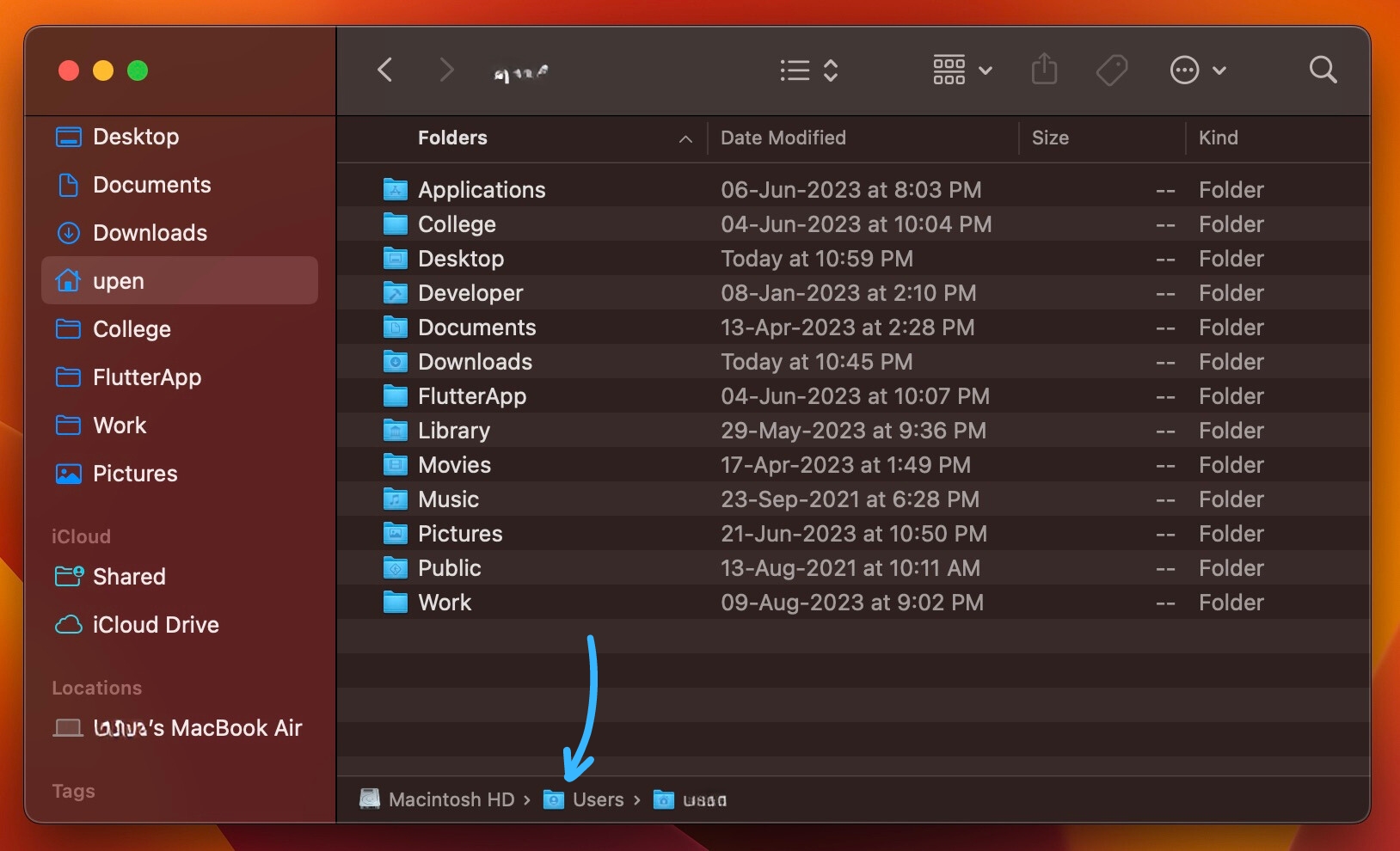 Once inside Users, find your old username (the name of your home folder). Right-click it and select 'Rename'. Enter a new name for this home folder—this should match what will be your new admin username—and then press return or enter on your keyboard to save changes.
Remember to take note of these changes; they are essential for subsequent steps towards successfully changing an Admin Name on a MacBook.
C. Rename your admin account
Your next mission is to rename the admin account. For this, you'll have to navigate back into your system settings.
Open System Settings and select Users & Groups. You will see a padlock symbol at the bottom left of your screen(if you are on an older version of macOS). Click on it and enter your password. This action allows you to make changes in this section.
Next, from the list of users on the left side of the window, right-click or control-click on the username that you wish to change. A little context menu will pop up; from there, select Advanced Options…
Here is a catch: if you are on macOS Ventura or later A new window will open with fields containing user information like Username (short name), Full name (long name), Home directory, and more; if you are on Earlier versions of macOS then you will see information like Account Name(short name), Full name (long name), Home directory and more. To successfully rename your admin account without facing any login issues later:
Change 'Username' (macOS Ventura or later) / 'Account Name' (Earlier versions of macOS) to match what you renamed your home folder in step 2.
The 'Home Directory' field should also be updated with a new path/name.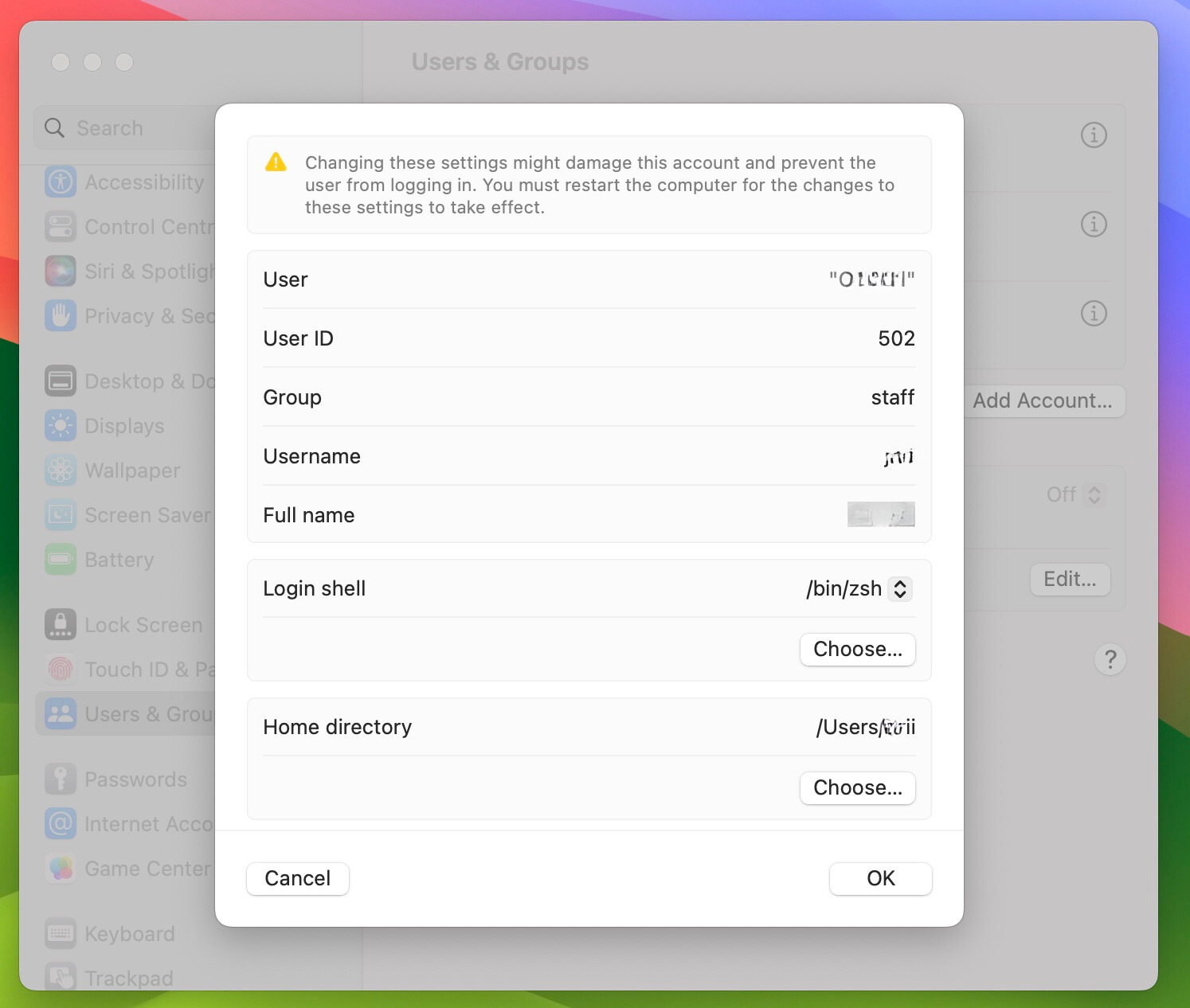 Update 'Full Name' if desired.
After making these changes, click 'OK.' Exit out of System Preferences as well as Users & Groups settings.
Remember: all steps are crucial for correctly changing admin names in macOS without causing any complications. It's time now for some patience as these changes take effect after a restart! Restarting your MacBook is our next move before we jump into testing out our shiny new administrator username!
Facts about Admin Name
Here are some quick facts about changing admin account names:
| Fact | Explanation |
| --- | --- |
| It Won't Affect Existing Files | Changing your Admin name will not affect existing files. Regardless of username alterations, all stored items remain intact in their respective folders. |
| User Directory Remains unchanged | Despite picking a new username, the original user directory bearing the previous username remains unchanged. While this poses no risk or inconvenience during normal operation practices, individuals looking for consistent nomenclature might find this annoying. |
| It's Reversible | Thankfully, for those who decide they prefer their old admin name after all – fear not! The process is reversible so there's no stress or permanency attached. |
FAQs
Can I change my admin name without being an administrator?
No. Only someone with administrator privileges can change the admin name on a Mac.
Will changing the admin name delete my files?
No. The process of changing your admin name won't affect your files, but it's always good practice to back up your data, just in case.
Can I reverse the process after changing my admin name?
Yes. If you're not satisfied with the new name, you can change it back again by following the same steps.
Is it required to update my Mac OS before changing the admin name?
Not necessarily, but updating to the latest operating system is recommended as it ensures compatibility and smooth functioning.
How many times can I change my Admin name on a Mac?
There's no limit! You're free to change your Admin Name any number of times as long as you are an Admin user.
Conclusion
Changing your admin name on Mac doesn't have to be a complicated process. We've broken it down into simple, easy-to-follow steps for your convenience. Although it might seem intimidating, especially for those who are not tech-savvy, you can do it with this guide in hand.
Remember to be careful and mindful at each step to avoid any mishaps. So go ahead – follow the steps and make your Mac experience just a little bit more personalized. If you found this guide helpful, please share the links with others who might find it useful too.