Have you ever been in the middle of an important project or engrossed in downloading your favorite entertainment series, only to be confronted with that dreaded notification – "Your disk is almost full"? We all have been there! Staying informed about how much storage space is left on your MacBook can save you from unwelcome surprises and annoying interruptions.
Luckily, MacBook offers a handful of ways to keep tabs on your storage capacity quite conveniently. From Finder's Preferences and Disk Utility app to the 'About This Mac' panel – this article will guide you through 5 straightforward methods to check MacBook storage any time you want. So, let's dive straight into it.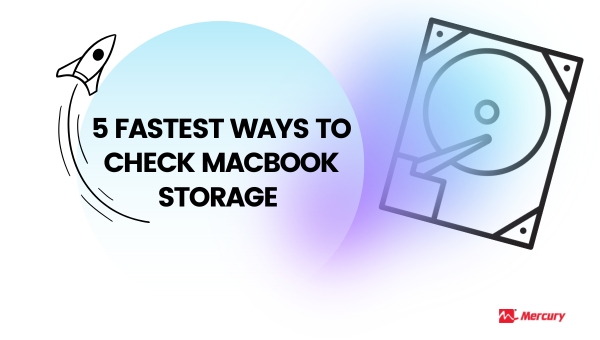 How to check MacBook storage?
Start by keeping in mind that storage capacity is a crucial aspect of your MacBook's performance. Knowing how much space you have and what is taking up that space will help you manage files efficiently and ensure optimal functionality.
Alternatively, use About This Mac for an easy overview. Click on the Apple icon at your screen's top-left corner. Select About This Mac from the drop-down menu, then switch to the Storage tab. It provides a simplified breakdown of file types consuming storage – including photos and music applications – along with their respective sizes.
For more detailed insights into hard drive usage, including connected drive info such as capacity or partition layout, etc., consider utilizing the Disk Utility App. Just open Spotlight Search (Command + Space), type in Disk Utility to launch it, then choose your Macintosh HD for detailed insights.
Remember, though all these options merely allow us to look into our storage utilization, managing it effectively requires regular cleanups assisted by built-in macOS functionalities like iCloud Storage Optimization or using third-party tools like MacCleaner Pro or Avast Cleanup for removing junk data and freeing up some valuable disk space.
Here are the 5 Ways to Check MacBook Storage:
Using Finder
If you're curious about how much storage space is left on your MacBook, Finder is one of the simplest ways to check. Here's the step-by-step process:
Begin by launching Finder. You'll find it in your dock – it's the blue and white icon that looks like a face. Once Finder is open, go straight to its Preferences by selecting 'Finder' from the menu bar at the top of your screen and then choosing 'Settings'.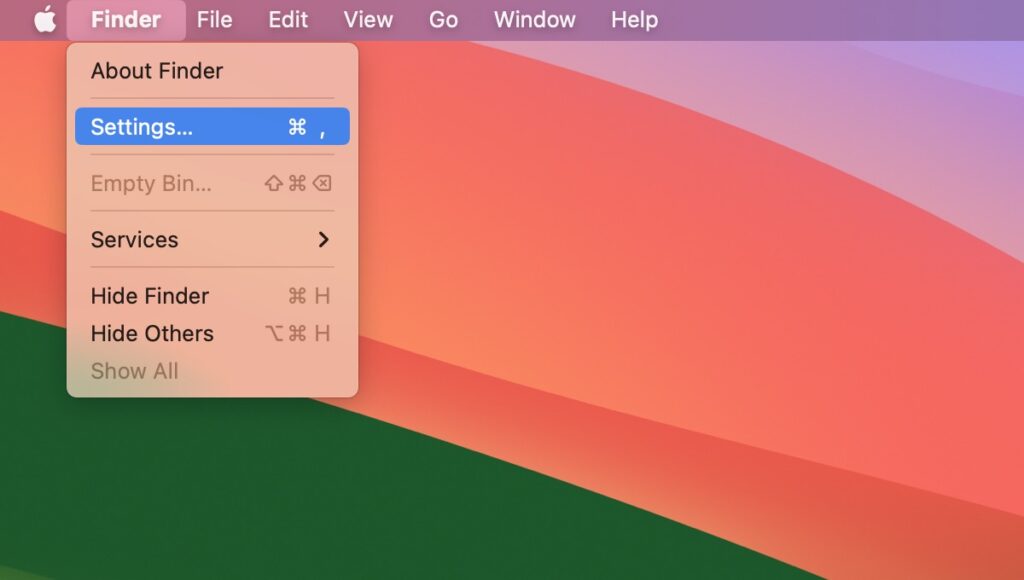 From here, you need to make your hard drive visible on the desktop for easy examination. Choose the 'General' tab and tick off 'Hard disks' under "Show these items on the desktop." Your Macintosh HD should now be visible on your desktop.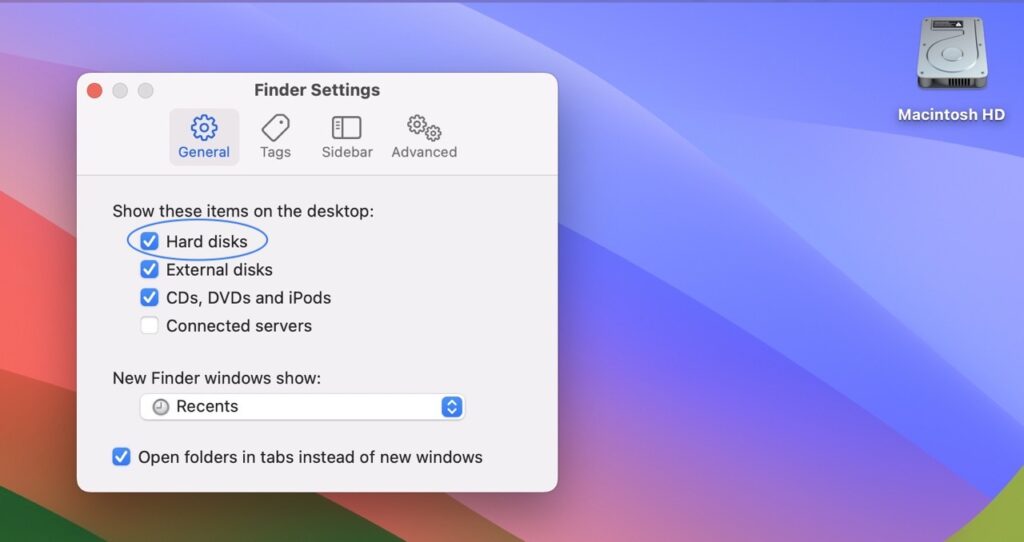 Right-click (or control+click) on this newly appeared Macintosh HD icon and select 'Get Info.' A new window will pop up detailing all sorts of parameters related to this disk drive, including capacity, available space, used space, etc.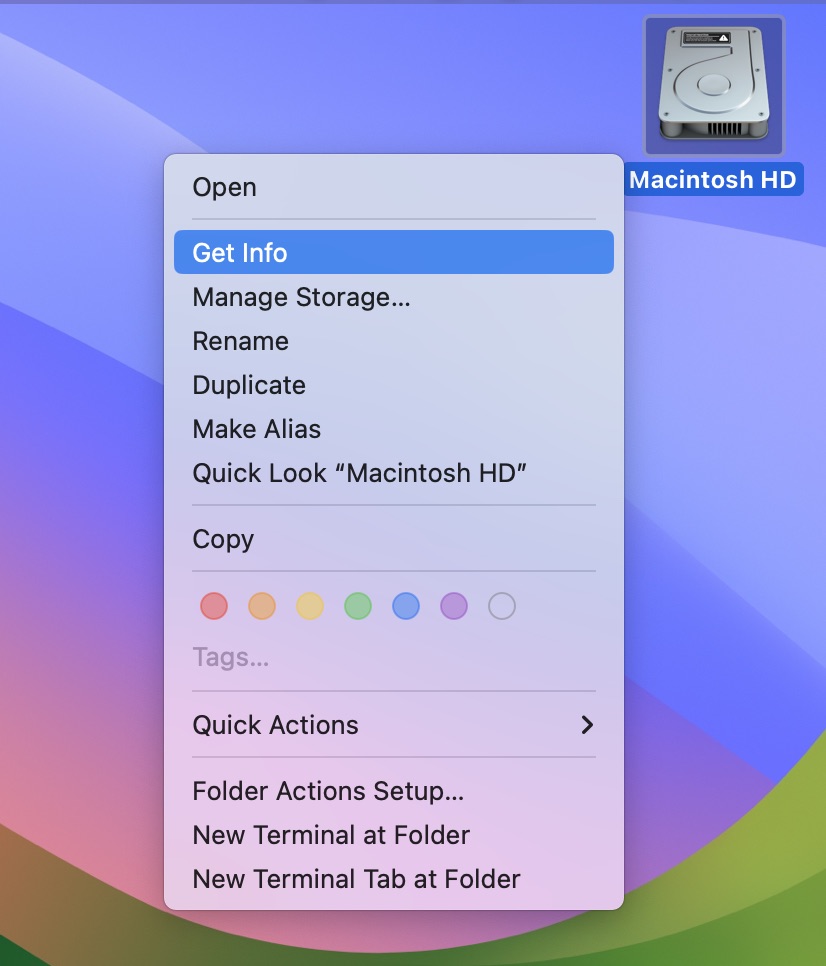 Using Finder lets you examine storage details without delving deep into system settings or using any external app. It's fast, straightforward, and efficient.
Remember, though: if you find yourself running out of storage often despite deleting files or applications regularly, consider options like iCloud for additional virtual storage or an external hard drive for physical storage expansion.
Might Be Helpful: How to Connect AirPods to MacBook: Step-by-Step Guide
Using Disk Utility
Disk Utility is a built-in tool on your MacBook that provides valuable insights into your storage status. It not only displays the total space and available space of your drive but also showcases various other details such as used space, disk permissions, and more.
To use Disk Utility for checking storage:
Navigate to the Spotlight search by pressing Command + Spacebar.
Type Disk Utility in the search bar and hit Enter.
Once the Disk Utility window opens up, select your hard drive (typically named Macintosh HD) from the sidebar on the left.
Details about your selected drive will be visible on the right-hand side panel; here, you can see data like Capacity, Used, Available, etc.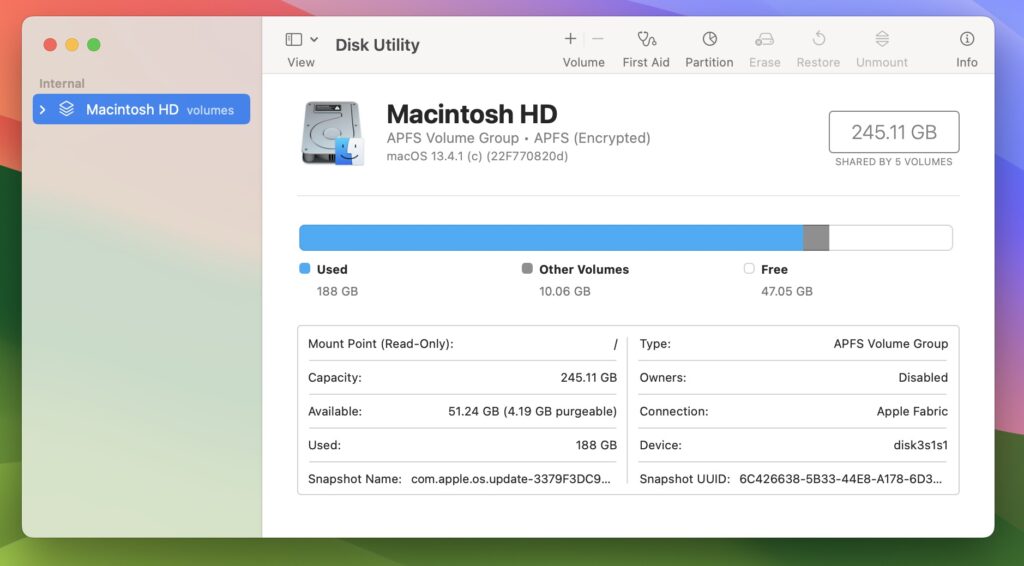 Remember that this tool doesn't just show you how much space you have remaining – it also gives insight into what's utilizing that capacity: applications, files, or even system data.
An added advantage of using Disk Utility is its ability to fix certain types of errors related to storage management should they arise during routine checks. So it's a good idea to familiarize yourself with this helpful utility application!
Using System Report
A simple and efficient way to check your storage on a MacBook is by using the 'System Report' feature. This can be done with just a few clicks:
Access System Information:

Click on the Apple logo in the top-left corner of the screen to open the Apple menu.
Select "About This Mac."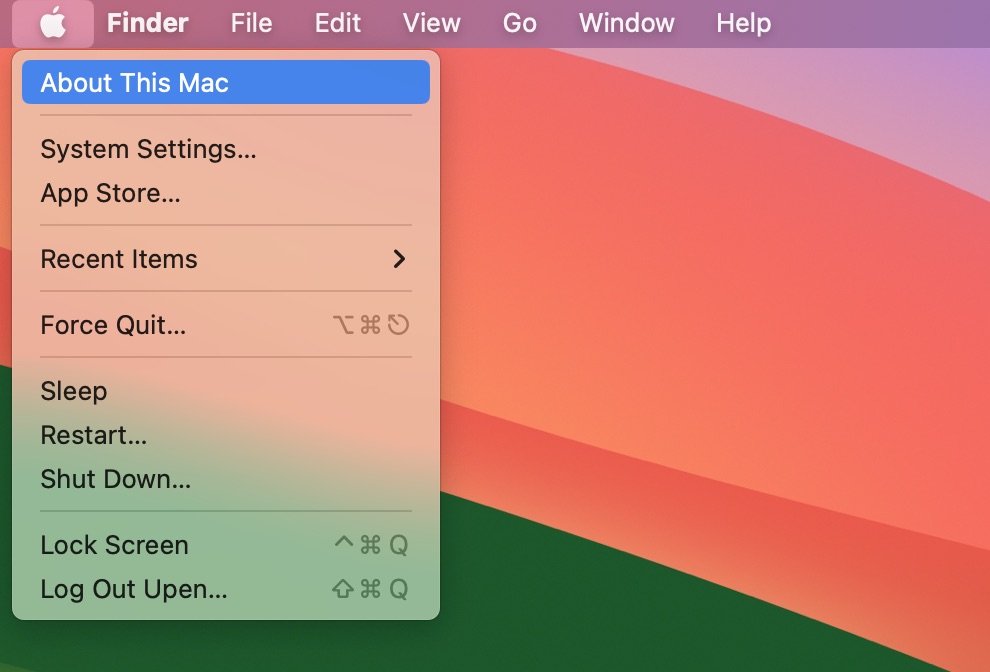 Open System Report:

In the "About This Mac" window, click on the "System Report" button. This will open the System Information app.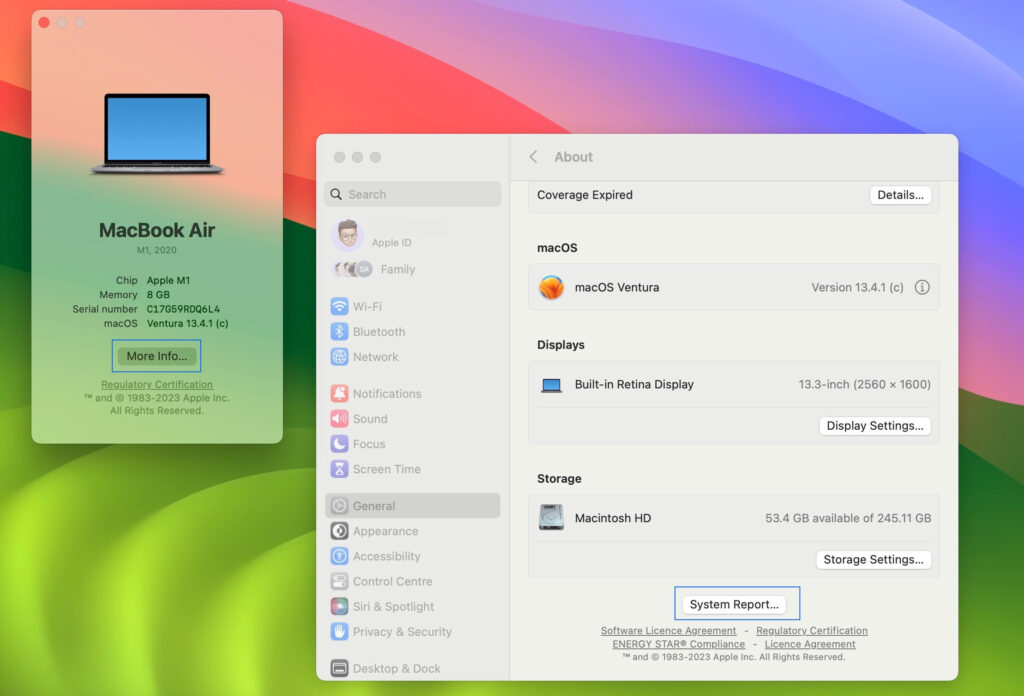 Navigate to Storage:

In the left sidebar of the System Information app, scroll down and locate the "Storage" section under the "Hardware" category. Click on "Storage."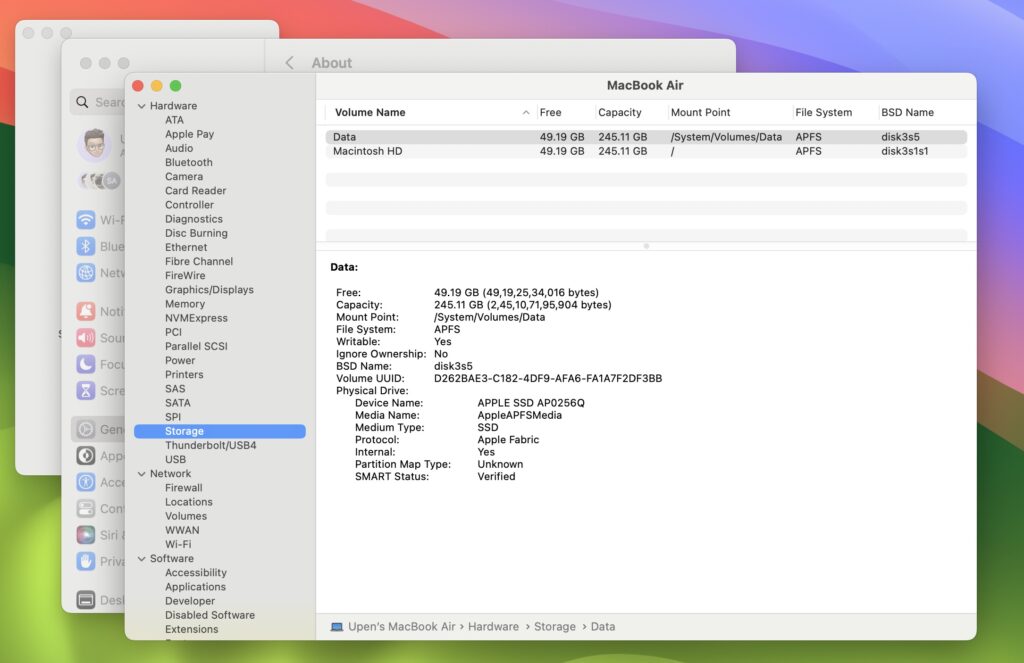 View Storage Details:

On the right side of the window, you'll see information about your storage devices, including the internal drive and any external drives connected to your MacBook.

Check Drive Details:

Click on the storage device you're interested in to view detailed information about it. You can see details such as capacity, available space, used space, and more.

Analyze Storage Usage:

Use the tabs at the top of the storage details window to view different aspects of your storage usage, such as applications, documents, photos, and more.
Might Be Helpful: How To Uninstall GarageBand From Mac: Step-by-Step Guide
Using About This Mac
One of the most straightforward ways to check storage on your MacBook is by using the built-in feature in Apple's macOS. To do this, you need to navigate through About This Mac.
Start off by clicking on the Apple icon located at the top left corner of your screen. A drop-down menu will appear, select "About This Mac".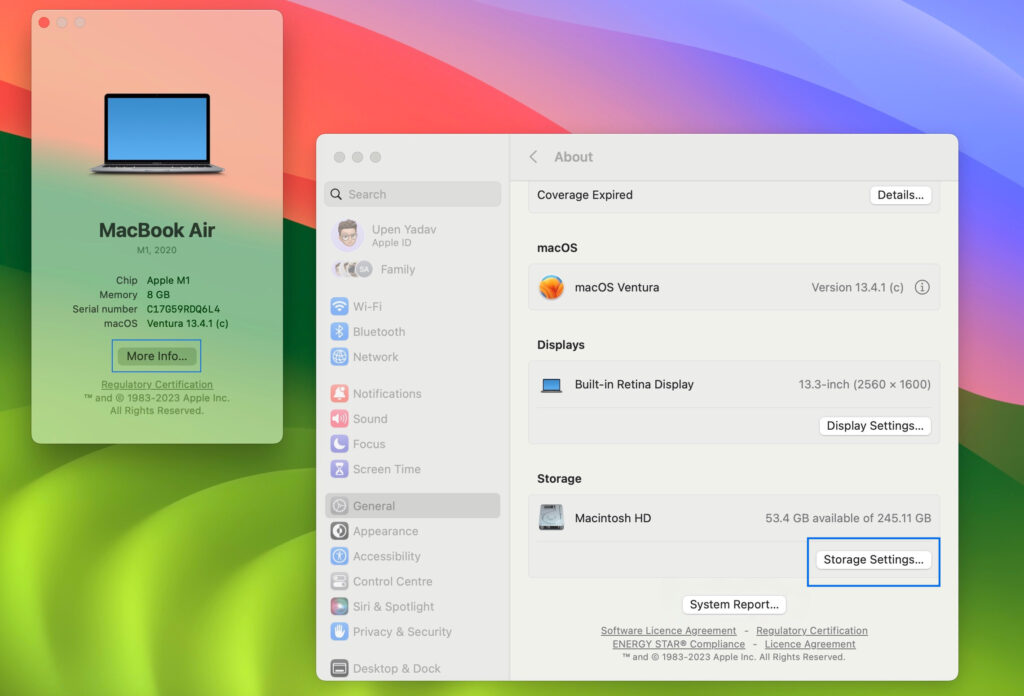 This will open up a new window displaying an overview regarding various aspects of your MacBook, including its OS version, memory, and even processor information. However, what we're interested in here is storage information which can be accessed by switching over to the "Storage" tab.
Once you click on this tab, you'll see a bar graph that showcases how much space has been used up, as well as how much is still available. Additionally, it provides a breakdown showing which types of files are consuming most of your drive's capacity – like photos, documents, or apps, for instance.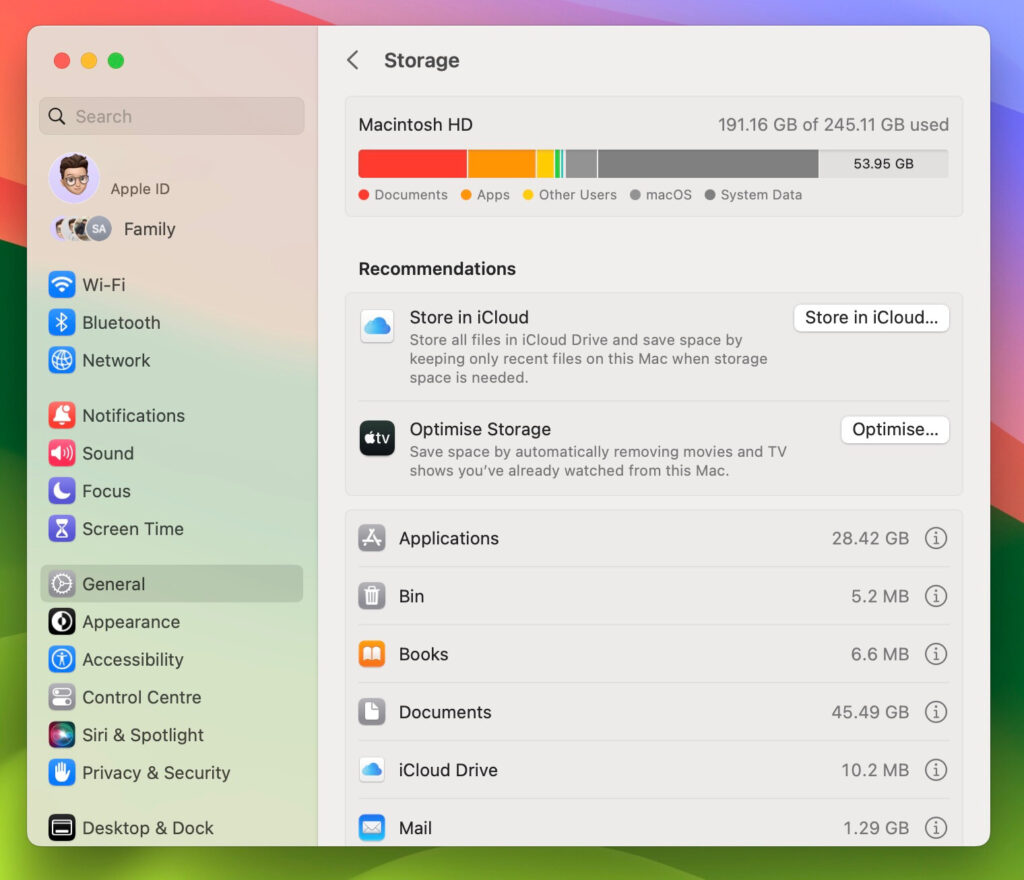 Remember that this method offers only a simplified overview of file types consuming storage. If a more detailed analysis of specific directories or files taking up space is needed, other methods mentioned in further subheadings might be more suitable for you.
Might Be Helpful: How to Change Admin Name on Mac: Quick Edit Guide
Using Storage Status Bar
A pretty straightforward method to check your MacBook's storage is activating the Storage Status Bar. This option provides a constant overview of your disk space, allowing you to keep an eye out for dwindling storage.
Here's how you can activate it:
Open Finder from your dock.
Click on 'View' in the top menu bar and choose 'Show Status Bar.'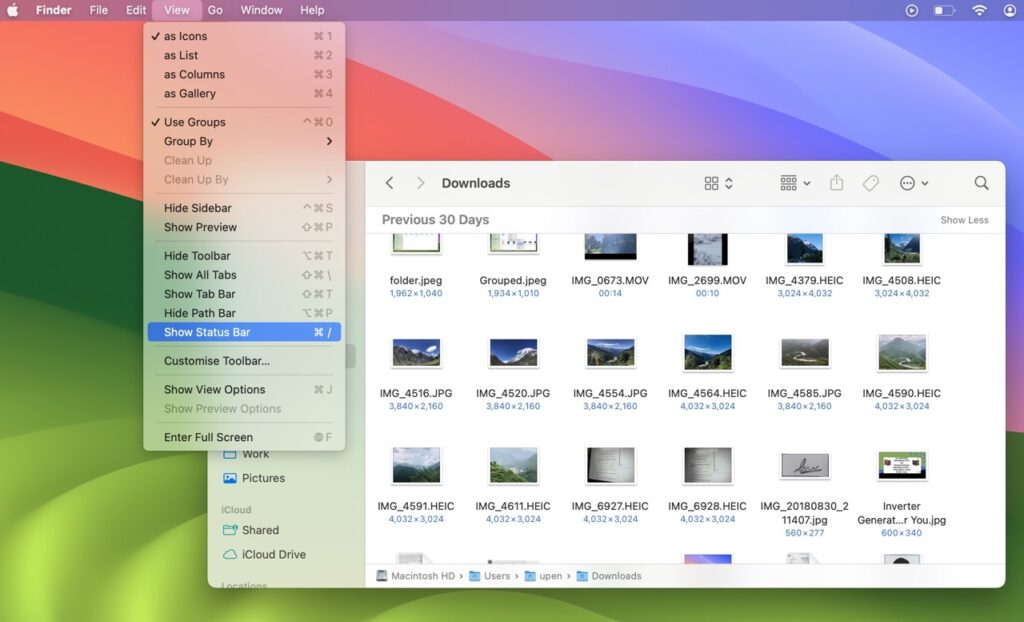 Now, at the bottom of every Finder window, you'll see a small bar showing available space on your drive.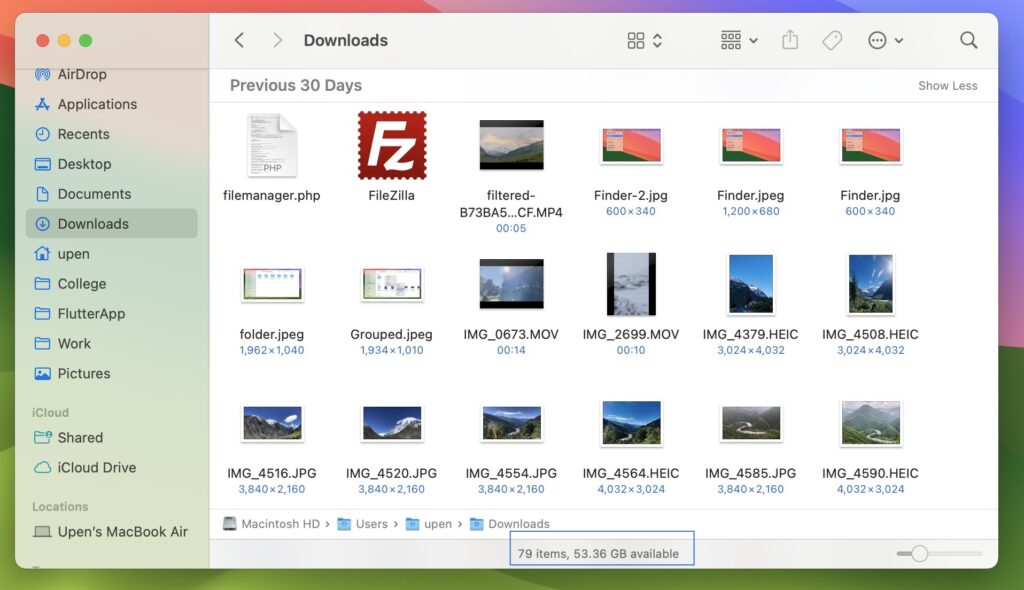 This status bar gives instant access to information about available storage space. It dynamically updates as files are added or deleted from your system. If there's one thing easier than this, then it's probably using Mac's built-in storage management tools.
FAQs
How do I clear my storage on a Mac?
This can be done in several ways, such as emptying the trash bin, deleting unwanted applications or files, and clearing cache files.
What is taking up space on my Mac?
You can find out what's consuming your space by clicking Apple Menu > About This Mac, then go to the Storage tab. Here, you'll see a breakdown of what categories are using up space.
How do I free up disk space on my Mac?
You can manually delete unnecessary files or utilize built-in tools like 'Optimize Storage' and 'Reduce Clutter'. Alternatively, use third-party apps like Avast Cleanup for an extensive cleanup.
Can iCloud help with storage issues?
Definitely! You can store files in iCloud, reducing the load on your physical hard drive.