Ever wondered how to keep your MacBook running optimally for years to come? A key aspect of this is understanding and maintaining the health of your MacBook's battery. It's a critical yet often overlooked aspect that can significantly impact your device's performance.
In this guide, we will be discussing "How to Check Battery Health on MacBook." This straightforward guide will provide you with step-by-step instructions to ensure you're well-equipped with the knowledge needed to keep your MacBook in its finest condition.
Fortunately, whether you're using macOS Ventura, Monterey, or older versions, Apple has provided easily accessible tools to review your MacBook's battery health. In just a few simple steps, you can learn how to assess your device's battery usage and remaining lifespan effectively and efficiently.
Step-by-Step: How to Check Battery Health on MacBook
Figuring out how to check your MacBook's battery health is relatively straightforward. Using the built-in MacBook system report or the 'About This Mac' menu lets you quickly see your MacBook's battery status and gain insights into its overall health and performance.
Let's break down the steps to understand your MacBook's battery condition completely.
Also Read: How to Eliminate Duplicate Photos on Mac? Easiest Method
For MacOS, Ventura, and Newer
Click on the Apple logo: In the top left corner of your screen, click on the Apple logo. This will pop up a dropdown menu.
Select 'System Settings': In the dropdown menu, select 'System Settings.' This will open a new window.
Navigate to 'Battery': On the toolbar at the top of this window, click on 'Battery.'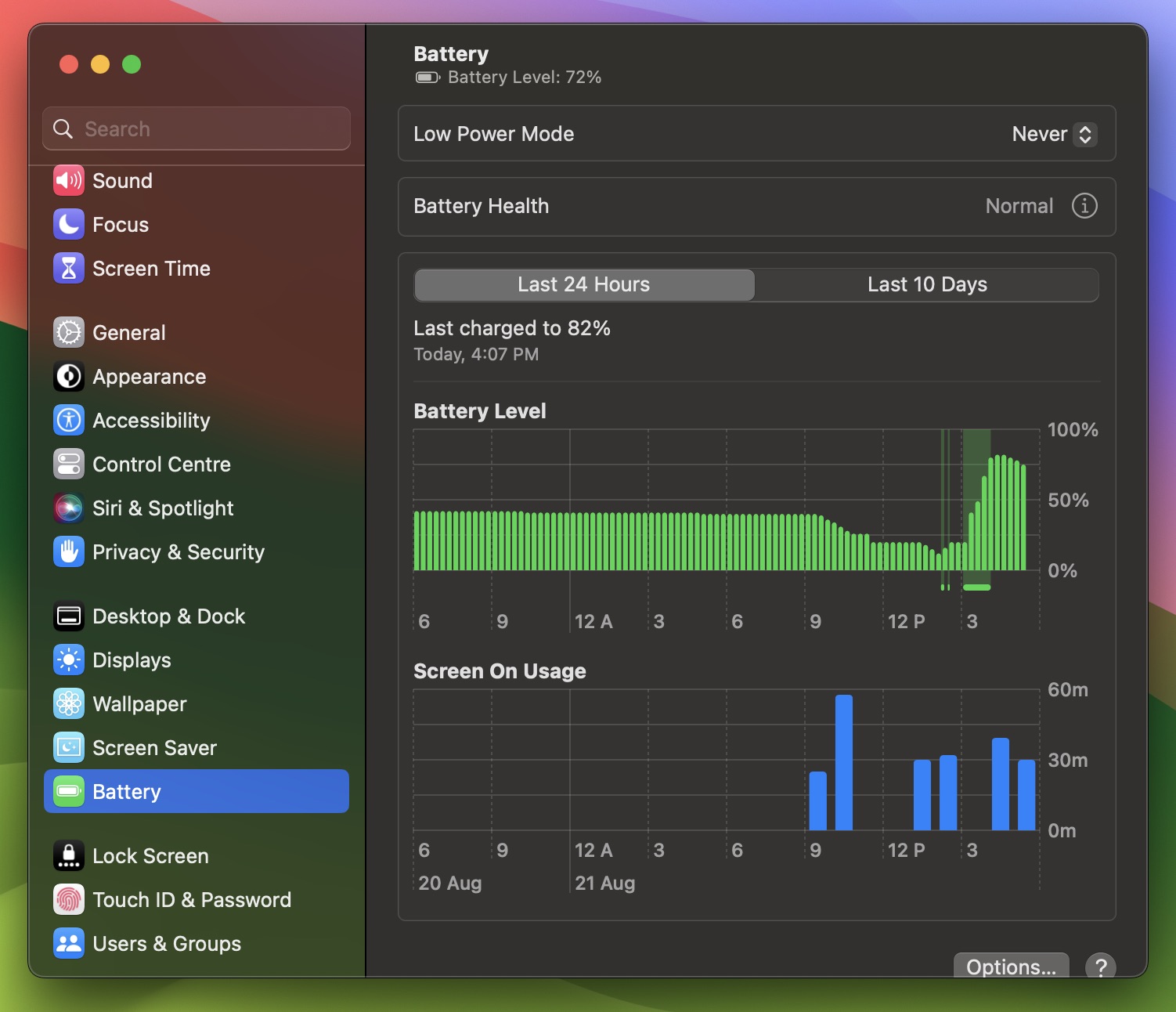 Review your battery status: Here, your Battery Health is listed on the right side of the battery section. Now Click on info(i) to see the battery status.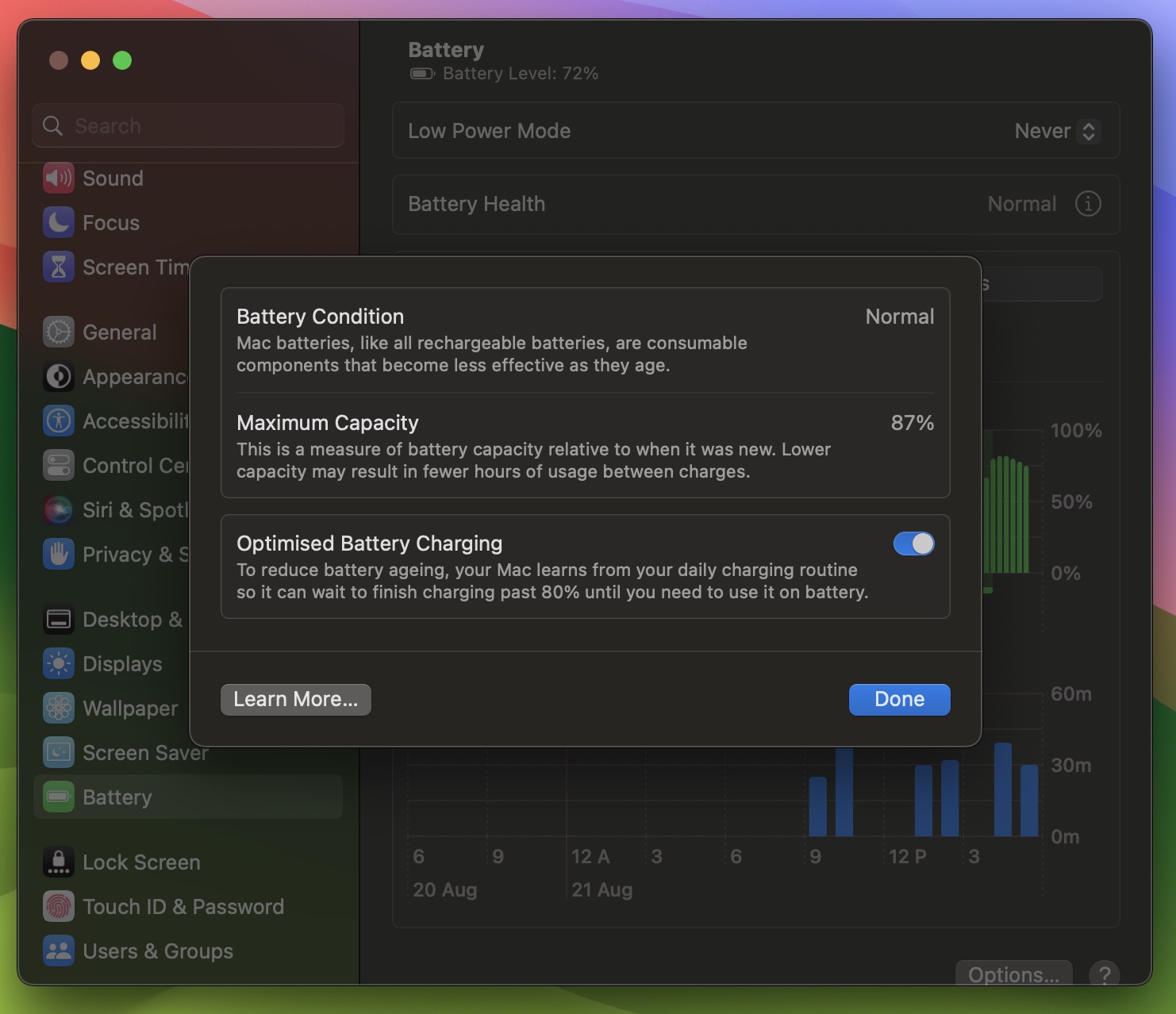 For MacOS Monterey and Older Versions
System Preferences: Go to 'System Preferences' either from the Dock or menu bar (You can also use Apple menu > System Preferences).
Find Battery: Click on 'Battery', and then click 'Battery' again.
Check Battery Health: Now, click on 'Battery Health' in the bottom-right corner.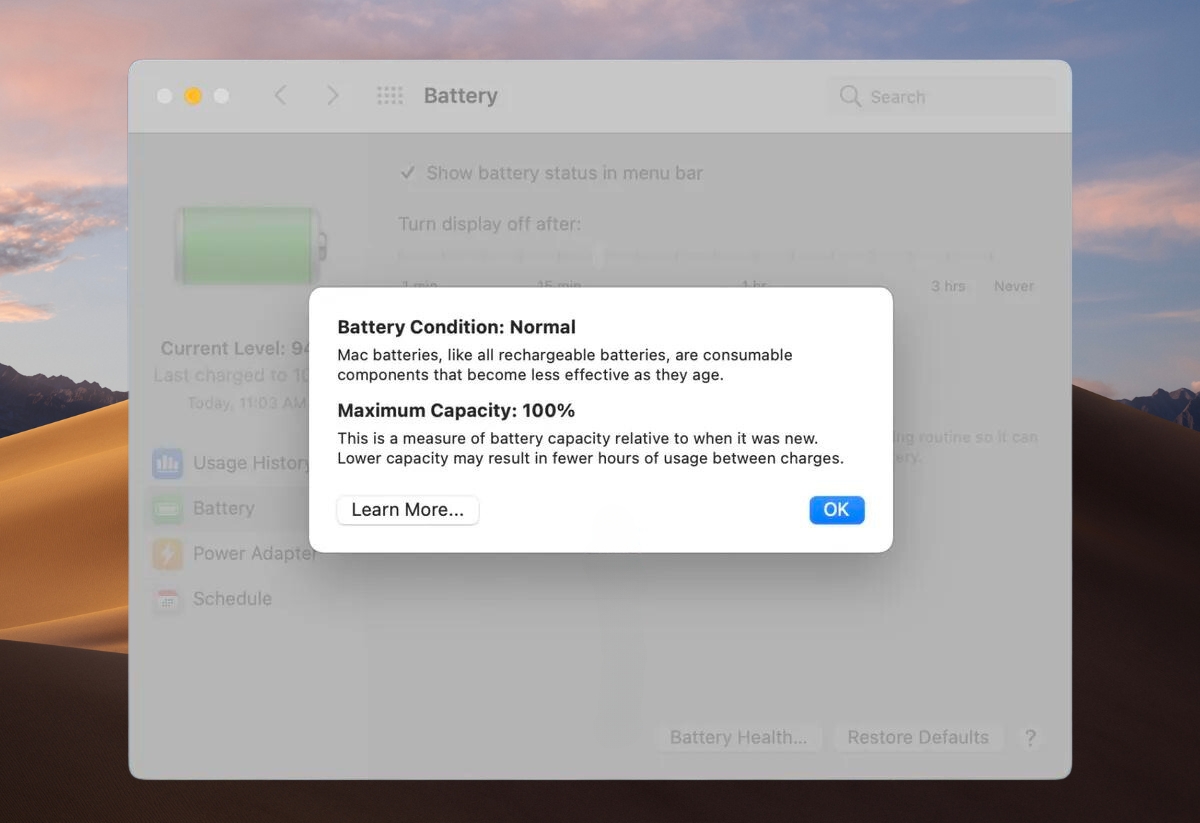 Both of these methods will give you a basic rundown of how your MacBook's battery is performing. Refer to the table below to take action according to your battery conditions.
| Battery Status | Description | Recommended Action |
| --- | --- | --- |
| Normal | The battery is currently operating within normal parameters. | No immediate action required. |
| Service Recommended | The battery is performing adequately, but its charge-holding capacity has declined from its original state. | Consider replacing the battery for optimal performance. |
If you need more depth to understand your battery status, check your MacBook's battery cycle count. This refers to the total number of full discharges your MacBook underwent, with one cycle counted every time it uses 100% of its power.
Also Read: 5 Fastest Ways to Check MacBook Storage
How to Check MacBook Battery Cycle Count?
Open 'About This Mac': Click on the Apple logo at the top-left corner and select 'About This Mac.'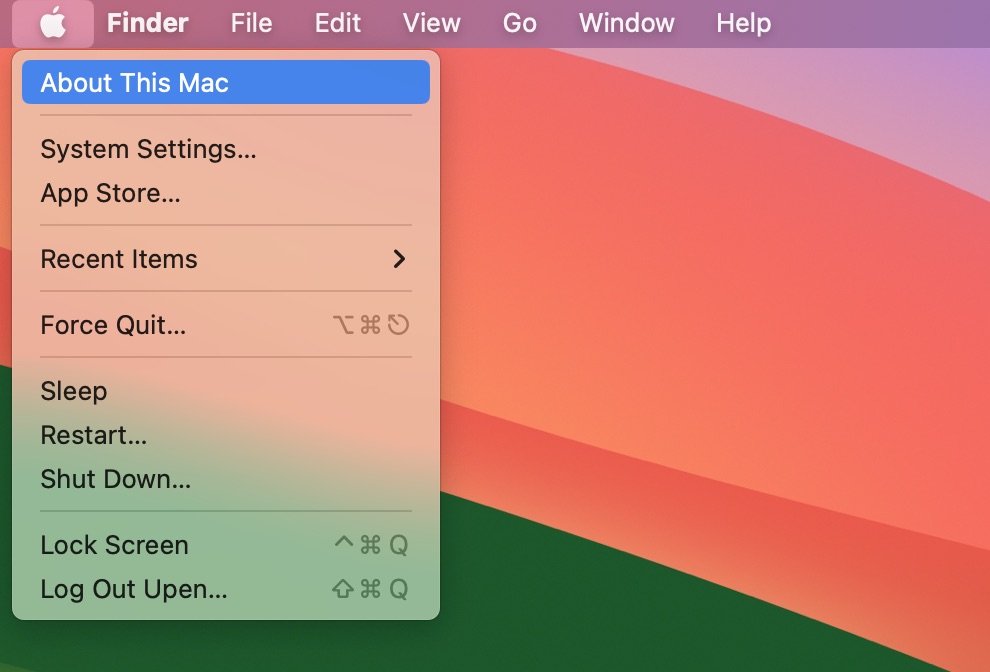 Navigate to System Report: On the new window, click on 'System Report.'
Click on Power: Under Hardware, find and select 'Power.' On the right side, you'll see 'Cycle count.' The number next to it represents your MacBook's current battery cycle count.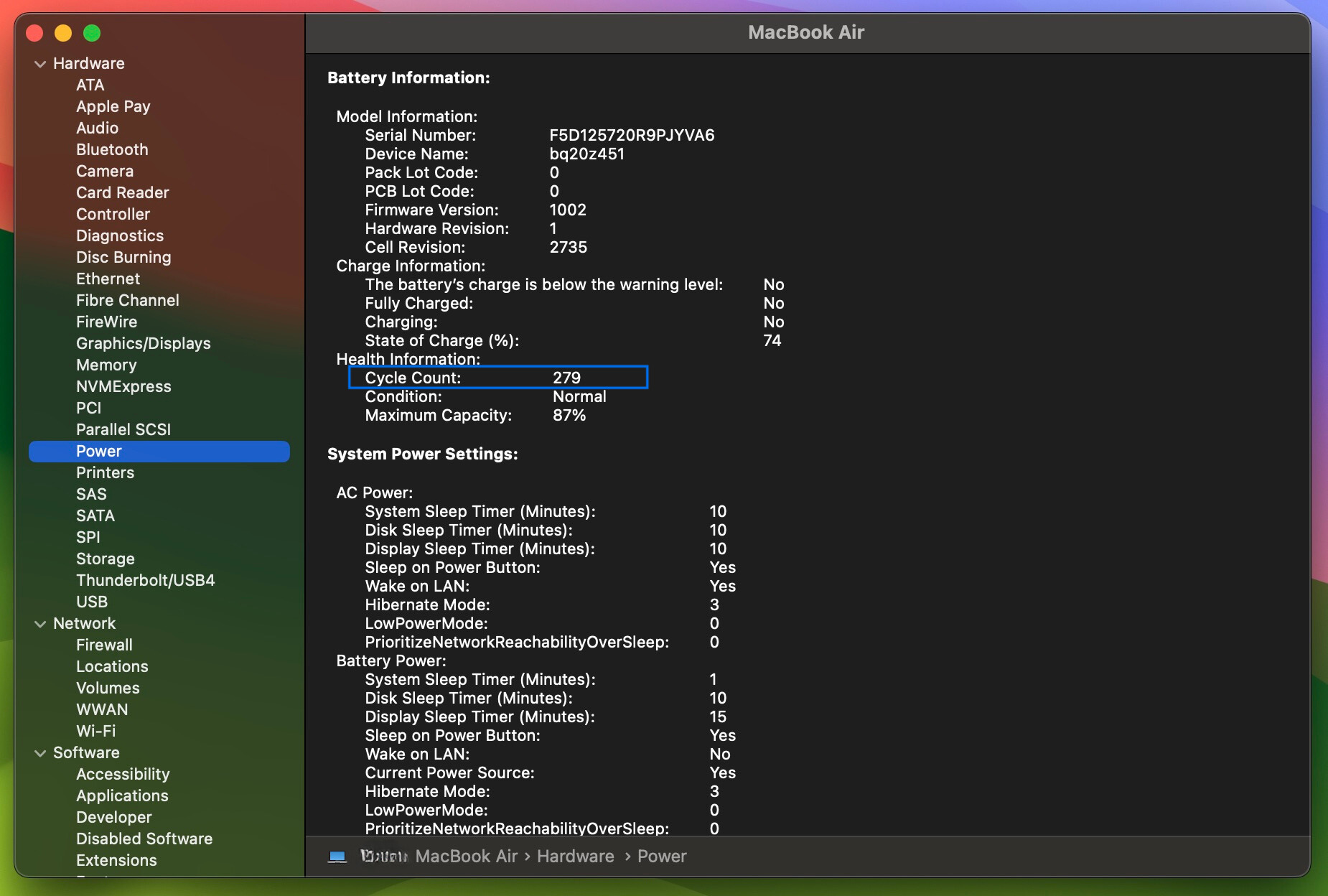 To interpret the status of your battery based on that number, refer to Apple's own MacBook Battery Cycle Count Life Expectancy Table.
You can maximize your performance and overall lifespan by diligently monitoring and understanding your MacBook's battery health and cycle count.
Also Read: How to Change Admin Name on Mac: Quick Edit Guide
FAQs
What is a MacBook's battery cycle count?
It indicates how many times your battery has been charged from 0% to 100%. Lower cycle counts mean a healthier battery.
Can I maximize my MacBook's battery lifespan?
Keeping your MacBook updated and moderating brightness, application use, and background tasks can certainly help prolong its battery lifespan.
How do I know if it's time to replace my MacBook's battery?
If your Battery Health status reads 'Replace Soon,' 'Replace Now,' or 'Service Battery,' it's time to consider a battery replacement.
How does knowing my MacBook's battery health benefit me?
Knowing your MacBook's battery health allows you to gauge its remaining lifespan and potential performance quality.
Does checking my MacBook's battery frequently harm my device?
No, frequently checking your device's battery will not harm it. This process only provides information and does not affect the actual performance of your laptop
Conclusion
Maintaining your MacBook's health is vital to secure a long-lasting performance. The above steps can help you quickly and accurately check your MacBook's battery health, regardless of your macOS version. Regularly checking keeps you informed about its performance, giving you an edge over potential issues.
Remember to keep an eye on the capacity and cycle count, as these may be indicators of when it might be time for a battery replacement. The key to optimizing your MacBook's lifespan lies in your hands.